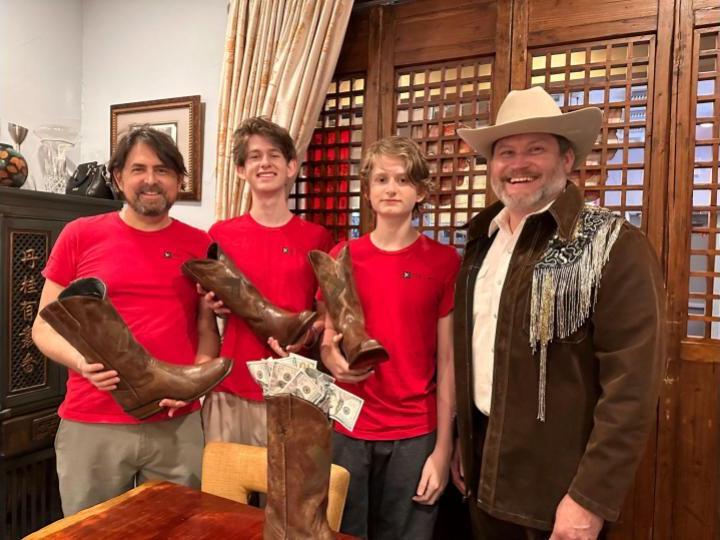 THE CHUCK BRADY BOOTSTRAP AWARD
At XPRIZE, we believe that everyone has the power to change the world. Teams of all ages and backgrounds, with a wide variety of financial backing, university support, and education, have entered, competed, and elevated the level of our competitions. But sometimes, even in these crowded fields, a team's determination stands out. 
The Chuck Brady Bootstrap Award recognizes innovators with great ideas, and greater determination, who overcame financial limitations to bring their technology to life. Chuck Brady presented the award to AvaDynamics to recognize the tenaciousness and creative spirit necessary to bring their one-armed robot to the finals against far better funded teams.
MEET THE WINNERS: AVADYNAMICS
Billy Zelsnack and his two teenage sons founded AvaDynamics specifically to compete in the ANA Avatar XPRIZE. Their team developed and self-funded a 3D-printed avatar for $2,000 in their own garage. With support from their local community in Pittsburgh, PA, AvaDynamics reached the final round of the ANA Avatar XPRIZE and competed against teams with budgets ten times greater than theirs. In doing so, they embodied a core tenet of XPRIZE: anyone, anywhere can compete and change the world.
Watch AvaDynamics compete in the ANA Avatar XPRIZE finals event — their trial starts at 02:32:23.
The ANA Avatar XPRIZE tasked teams with creating a robotic avatar system capable of simulating human interaction to fill the role of care providers, disaster relief workers, or skilled craftsmen in real time over great distances. This would enable the rapid and efficient distribution of expertise and experience to distant geographical locations, "to bridge the gap between distance, time, and cultures," says XPRIZE Founder Peter H. Diamandis. 
AvaDynamics' efforts during the finals caught the attention of Charles "Chuck" Brady, XPRIZE benefactor and Founder and Chairman of Apogee. Having founded his own company as a student at the University of Texas in 1998, Chuck admired the grit and creativity AVADynamics displayed with their robot, the only single-armed entrant in the field. When he asked why they made this design choice, they replied candidly that they simply didn't have enough money for two. 
Even so, AvaDynamics' plucky robot performed well. Although they did not win the grand prize, Brady was impressed by their scrappy, can-do mentality. He believed that they deserved recognition for their work that embodied the spirit of the XPRIZE community. So, he created the Chuck Brady Bootstrap Award, to celebrate their efforts to 'pull themselves up by their bootstraps.'
When Chuck Brady presented the team their award in person, not only did they get a cash award to reimburse the full amount they spent on development, the father and two sons also each got their own pair of custom XPRIZE branded cowboy boots.
AvaDynamics demonstrated the skills and perseverance of true competitors. Their story, and the well-deserved Bootstrap Award, prove that anyone, anywhere can compete in XPRIZE, and change the world.